What is it?
Geological disposal involves isolating radioactive waste deep inside a suitable rock volume to ensure that no harmful quantities of radioactivity ever reach the surface environment. The waste is contained inside multiple barriers to provide protection over hundreds of thousands of years.
It is not a case of simply depositing waste underground. The multiple barriers that provide safety for geological waste disposal are a combination of:
the form of the radioactive waste itself, for example, high-level waste that arises initially as a liquid is converted into a durable, stable solid glass form before storage and disposal
the packaging of the waste
engineered barriers (buffer) that protect the waste packages and limit the movement of radionuclides if they are released from the waste packages
engineered features of the facility that the waste packages are placed in
stable geological setting (rock) in which the facility is sited.
Source: "Geological disposal of radioactive waste: a guide for communities", United Kingdom's Department for Business, Energy & Industrial Strategy report.
How does it work?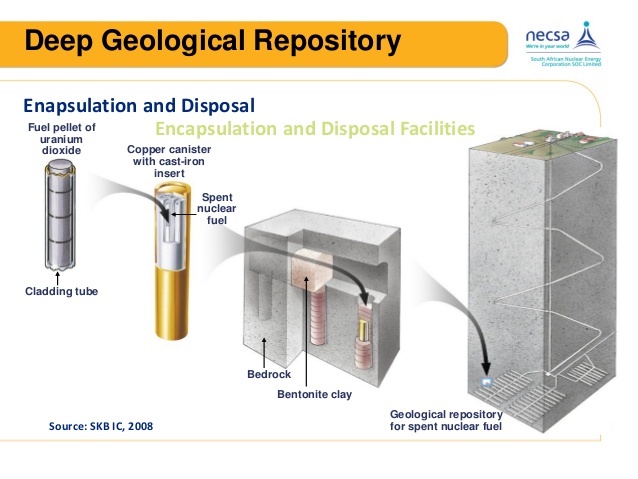 Source : Alan Carolissen, Overview Radioactive Waste Management in RS, 2016.
An explanatory video about radioactive waste disposal in deep repositories is also available here.
Why a deep geological management of radioactive waste management?
The main objective in managing and disposing of radioactive waste in deep underground is to protect people and the environment : in fact, experts considers that the waste being isolated or diluted away from them reduce the rate and the concentration of any radionuclides returned to the biosphere and that this process is harmless. To achieve this, practically all wastes are contained and managed – some in deep and permanent buria.
Disposal of these wastes in repositories located deep underground in suitable geologic formations becomes today the reference solution in term of radioactive waste management.
What risks?
Many experts and scientific support that geological disposal can be safe and even technologically feasible and environmentally sound. The World Nuclear Forum recalls that beyond storage, many options have been investigated which seek to provide publicly acceptable, safe, and environmentally sound solutions to the final management of radioactive waste, however, the most widely favoured solution remains deep geological disposal. According to the WNF, the crucial question is on how and where to construct such facilities.
Despite the world excitement, many authors remain sceptical and believe that repositories will contain wastes for so long that leaks might take place in the future and cause high risks for health and environment. One of the challenges facing these supporters is to bring solid proofs and demonstrations of such claims..
An international best practice?
Source : https://www.nwmo.ca/en/Canadas-Plan/What-Other-Countries-Are-Doing
For more information on the subject: http://www.world-nuclear.org/information-library/nuclear-fuel-cycle/nuclear-wastes/storage-and-disposal-of-radioactive-waste.aspx