Canada co-founded the 'Powering Past Coal Alliance' along with the United Kingdom at the United Nations 23rd Session of the Conference of Parties (COP23) to work to phase-out coal globally due to its negative environmental impacts.[1] In order to facilitate the transition away from coal within Canada, the federal government and its various departments have made policy changes to phase out coal by 2030, increased funding to support clean energy projects, provided help to provinces with the transition as well as held consultations with other stakeholders that might be affected by the phase-out of coal.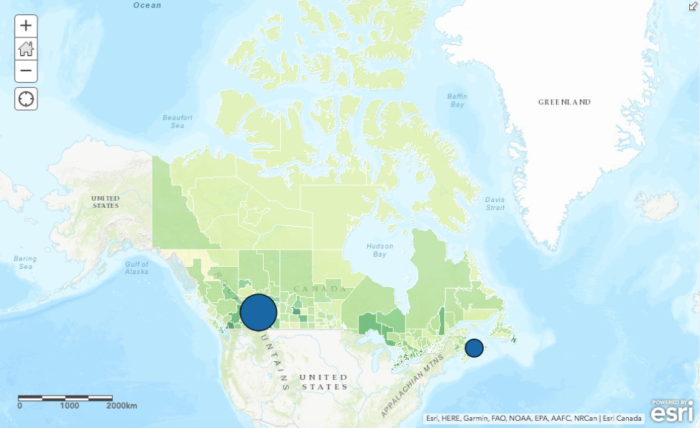 A key stakeholder that will be impacted is communities living near coal mines. The screenshot above of the map created using ArcGIS shows that the western provinces in Canada have the majority number of coal mines. Within this region, mines are located in medium to high population density areas as shown in the zoomed in screenshot of the same map below.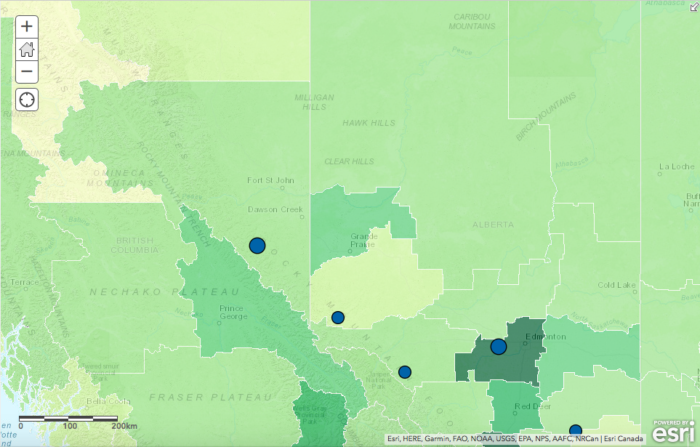 The medium to high population density near coal mine sites could show that many people in these regions live there because they are directly or indirectly employed in the coal industry either with mining companies or with those that consume coal. Therefore, one key group that will be impacted by the transition away from coal will be workers as well as communities who rely on the coal industry. However, these communities with medium to high population density will also experience some of the positive environmental and health impacts as a result of the transition. Coal is considered the world's dirtiest source of electricity and it contributes to air pollution that kills approximately 800,000 people every year.[2] Between 2015 and 2030, with a well-implemented phase-out, around 1,008 premature deaths and 871 hospital visits could be reduced.[3] Therefore, from the map, it is clear that many people, specifically in communities with high population density close to coal mining sites, will experience drastic changes both positive and negative in the near future as a result of the phase-out of coal in Canada.
Sources:
[1] "Coal phase-out: the Powering Past Coal Alliance." The government of Canada, (n.d.). Accessed December 12, 2018, from https://www.canada.ca/en/services/environment/weather/climatechange/canada-international-action/coal-phase-out.html
[2] Rabson, Mia. "Canada co-hosts 'coal-free day' at UN climate meeting in Poland." Global News, (2018). Accessed December 12, 2018, from https://globalnews.ca/news/4743482/canada-anti-coal-united-nations/
[3] "Coal Phase-Out: Canada." Canadian Association of Physicians for the Environment (CAPE). (n.d.). Accessed December 13, 2018, from https://cape.ca/campaigns/healthy-sustainable-energy/coal-plants-climate-health/coal-phase-out-canada/
Map created using ArcGIS on December 26, 2018, and can be accessed on https://arcg.is/1e89rf,
Sources for Map: Esri, HERE, Garmin, FAO, NOAA, EPA, AAFC, NRCan, EsriCanada
Written by: Nethra Kulothungan